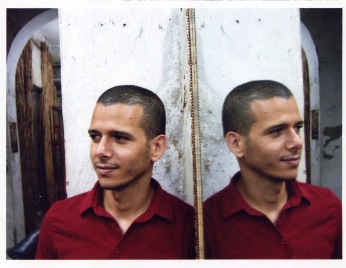 I was in my second life. I had just met death. I was gone. Then returned.
I was running. I was running. Quickly, quickly. Quickly, quickly.
Towards where? Why? I didn't know at the time. I don't remember everything. I don't remember anything now, to tell the truth. But it's coming, I know it.
I see words, I hear voices. I see an image, the same red and yellow image again and again. It's blurry. It will eventually clear up. I wait. I'm not writing any more. I'm on my little bed. I try to fill the pages of my private journal. A future book. I concentrate. I force myself to find that moment, that race. That chase. I'm not breathing anymore. I close my eyes. I concentrate even more. I curl up and try to distinguish the voices from another world which reach me in a din and which, with a single blow, stop. I relax. I'm afraid. I look at the sky, then my slightly dirty feet.
It's now returning to my head, my memory, my body. To my fingers. I feel it, I feel it. It's coming, it's coming. I'm happy. I'm excited. My heart's revving. My skin's growing slack. I lift my head, I open an eye and I watch what's falling.
It's me. Me. Little. An adolescent from the 1980s. A huge schoolbag stuck to my stomach, I'm crossing time, seconds, minutes, as quickly as possibly. I'm in a race. I have one idea in my head. An obsession. An Egyptian actress, mythical, beautiful, more than beautiful. Souad Hosni. A reality. My reality. I am pressed into going into my other life, imaginary, true, entering into communion with her, searching in her for my unknown soul.
--From
Abdellah Taïa
,
Une mélancolie arabe
, Éditions du Seuil, 2008, pp. 9-10. Translation by John Keene, 2008. Copyright © 2008, Abdellah Taïa, all rights reserved. (Photo © Denis Dailleux)